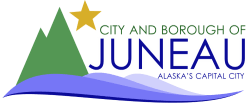 Mendenhall River Flood Event Update (11:40 AM 8/6)
The City and Borough of Juneau has issued a local declaration of emergency following the August 5 Mendenhall River flood event.
Although river levels continue to fall, at least two structures have been lost to the river and others are at risk and/or have been evacuated. CBJ has stood up an emergency operations center and is coordinating with state and federal officials to respond.
At this time, the Mendenhall River banks remain highly unstable. All members of the public are strongly advised to stay away from the river to ensure safety and avoid obstructing response efforts.
CBJ has communicated with all residents impacted by evacuation orders to confirm they have shelter options available. If you are in need of shelter due to the flood event, please contact [email protected] to coordinate.
CBJ has begun assessing structures damaged by flooding and bank erosion today, August 6. CBJ will be in contact with owners and residents of buildings that are determined not safe to occupy as soon as possible.
A number of fuel tanks and hazardous materials containers have been affected by the floodwaters. If you see a loose fuel tank/hazmat container or need assistance disposing of one on your property, please contact the Alaska Department of Environmental Conservation Spill Prevention and Response (SPAR) hotline at 1-800-478-9300.
CBJ and Alaska Department of Transportation & Public Facilities engineers have determined that the Mendenhall River Bridge on Back Loop Road is safe to reopen to the public. The pedestrian footbridge at Dimond Park remains closed while it is being evaluated.
Some roadways are currently obstructed by silt and debris. Clean-up efforts are underway and CBJ Streets is responding as swiftly as able.
All utilities have been restored in the majority of locations. If you have questions about service interruptions or restoration, please contact [email protected].
Impacted residents in need of support should contact (907) 586-0600 if immediate assistance is needed from JPD dispatch or [email protected] for questions about resources and long-term response needs.
Please be aware that neighborhoods adjoining the River may see increased activity from local and state officials while response is underway. The public's understanding in allowing response work to proceed as swiftly and smoothly as possible is greatly appreciated.
This is an evolving situation and more information will be released as it is available.