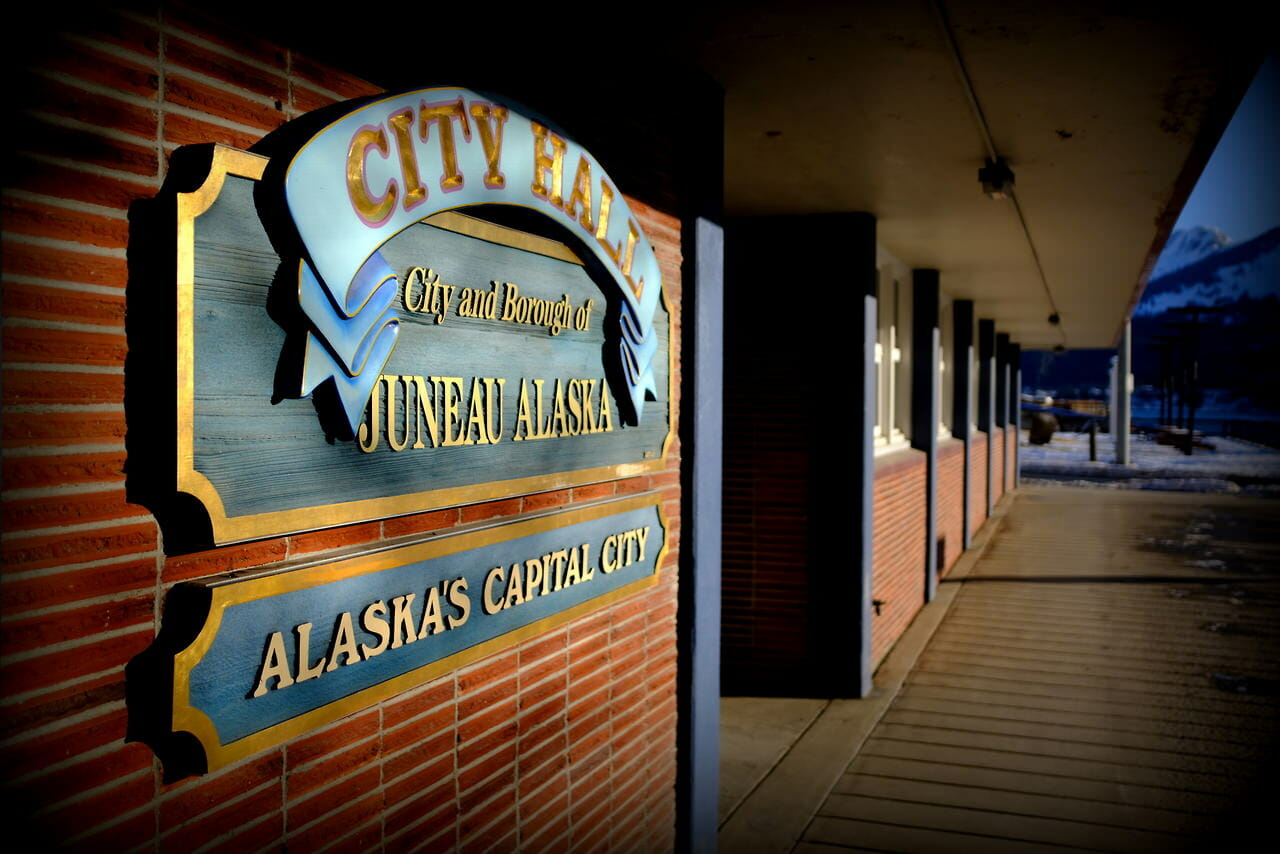 Planning Commission meets February 26. Here's how to weigh in.
The City and Borough of Juneau Planning Commission meets on February 26, 7 p.m. in City Hall Assembly Chambers to review a parking easement proposed for Chicken Yard Park, a potential lease of Guna-ka-deit Park for a seasonal food court, the renewal of a sand and gravel extraction permit in Montana Creek, and a proposed major subdivision in the Lemon Creek/Mountainside Estates area. All of these items are up for public hearing.
The public is encouraged to submit written comments to [email protected] by 12 noon, February 22, or testify in person at the meeting.  For more information related to these agenda items click here.
A parking easement at Chicken Yard Park for 626 Fifth Street (CSP2019 0001)
CBJ Department of Parks and Recreation requests a Planning Commission recommendation to the Assembly regarding a proposed parking easement and pedestrian easement located in Chicken Yard Park at 635 Sixth Street. The parking easement would provide two off street parking spaces for use by the owners of 626 Fifth Street. Additionally, the proposal includes a pedestrian easement through the park to 626 Fifth Street. Access through the park and playground by privately owned motor vehicles would end, which will allow for the replacement of the playground equipment and other improvements to the park.
Leasing Guna-ka-deit Park to Deckhand Dave's seasonal food operations (CSP2018 0018)
The CBJ Lands and Resources Division requests a Planning Commission recommendation to the Assembly regarding a one year land lease with Sustainable Seafood, LLC (dba Deckhand Dave's), for use of the former Guna-ka-deit Park, for an outdoor food court. Sustainable Seafood, LLC has plans to install waste water and electricity to the site. The lot has a water line that was installed by the City. Sustainable Seafood, LLC will sub-lease space to two other vendors, and has plans to install temporary covered seating and restrooms (aka port-a-potties).
A phased major subdivision to include 12 single-family lots and 1 large tract (SMP2018 0002)
The applicant requests preliminary plat approval for Phase 1 of the Richland Manor 2 Subdivision. This phase consists of 12 lots for single-family homes and 1 large tract for future development. Phase 1 includes the extension of Hillcrest Avenue in Mountainside Estates and installation of public water and sewer. For Phase 1, the applicant proposes a mix of bungalow lots, panhandle lots, and standard D15 lots.
Renewing a permit for sand and gravel extraction in Montana Creek (USE2017 0019)
The applicant requests a Conditional Use Permit for the continuation of an existing sand and gravel operation at 5580 Montana Creek Road. The West Glacier Borrow Pit was previously permitted in 1988, 1997, and 2007. Borrow pit operations include sand, gravel, and rock extraction; blasting; and rock-crushing. Pit operations also include disposal of stumps and other organic materials from off-site development to fill excavation areas.